Eat This Yum is family-owned and operated in beautiful Bucks County, Erwinna, PA. Our focus is on all-natural, sustainable, locally-produced jams, marmalades.
At Eat This Yum we believe that using simple wholesome ingredients is the key to producing quality products. Everything is made from scratch with no artificial ingredients or preservatives.
5% of sales is donated to our Volunteer Fire Fighters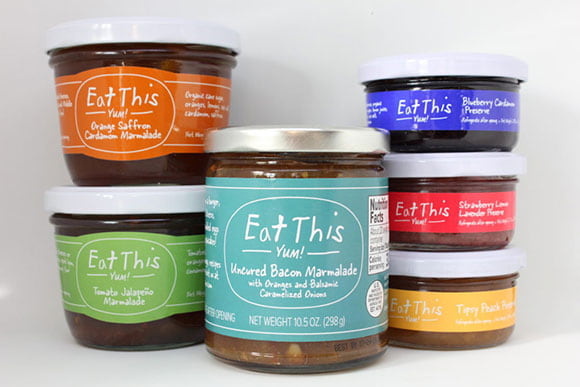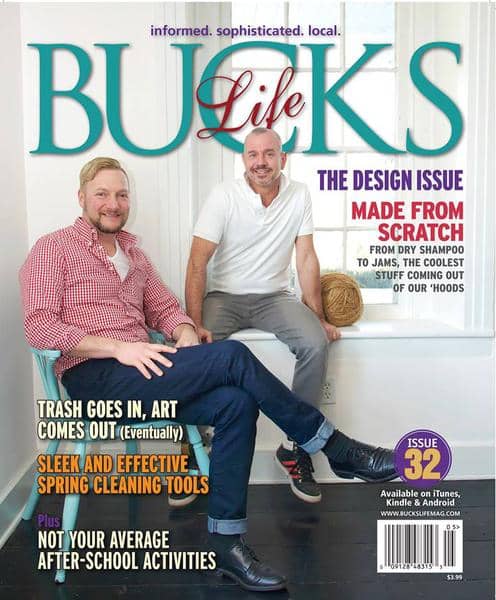 Lehighvalleylive.com:
"Oprah's Favorite Things features jams from Easton Farmers Market vendor" by Kelly Huth, The Express-Times
"Whether you spread them on a scone with clotted cream or use them to glaze chicken or fish, these artisanal, locally produced jams and marmalades—Gayle loves the Raspberry and Chambord—will give your meals a fruitful upgrade."
O Magazine – Oprah's Favorite Things 2014, November, 2014
---
The Intelligencer, November 25, 2014:
---
Bucks County Foodie, August 31, 2014
"I plan to try all of the flavors of Eat This Yum preserves before the Farmers Market shuts down in November for the winter and you should, too!"
---
Best Eats, July 11, 2014
"This is the BEST BACON MARMALADE ever!!"
---
Bucks Life Magazine, Apr/May, 2014
"Power to the People:  Made by Hand, Conceived Right Here" by Scott Edwards – Featured on cover.
---
Real Simple Magazine, June, 2012
Vanilla, Chocolate and Mocha Pot de Crème were featured under the gift guide for hostesses.  "One bite of this rich, swoon-worthy custard and they'll forget all about the cupcake craze", says Faye Penn of Real Simple.
---
NJ.com, July 24, 2013
"Year-Round Stockton Market Brings Farmers in from the Fields in Western New Jersey" "Eat This Yum makes terrific marmalades and spreads"
---
Stacey Snacks, Food Blogger, April 30, 2013
"My favorite vendor was David, from "Eat This Yum". These amazing dudes make fabulous confiture (jams, French style pates, balsamic onion marmalade, bacon jam!!! and pickled vegetables) and is a super nice guy to boot.  I went home with a box load."
---
The Kitchen Potager, January 19, 2013 – "Faces & Places"
"Gino's jars make great gifts and indulgent treats!"
---
Bucks Local News, "Friends of the Delaware Canal to Bring 'Faces and Places' Art Celebration to Erwinna", July 19, 2012
Frequently asked questions
What is the significance of the name "Eat This Yum"
It's really a statement to emphasize that our products are made from natural ingredients without any artificial flavorings or preservatives.We want our customers to feel confident that we use only the finest and (when available) locally-sourced ingredients available.
How can I buy your jam?
What if I don't want to order online? You can order online at www.etyum.com or find us at market.
Find us at these Stores
How long will the items take to get to me?
Items are shipped within 3 days if in stock, 1 week if backordered.

What is the difference between jelly, jam, preserves, marmalade, and conserve?
Jelly is made from fruit juice, sugar and often pectin. Jam is a thick puree mixture of fruit, sugar and often pectin. Preserves and conserve are jams with chunks of fruit. Marmalade is similar to preserves but contain citrus fruit rind.
Why do you add sugar? Do you have any jams with a sugar substitute?
The main function of sugar is to work with the pectin and fruit acids to form the gel structure of jam and to preserve the color and inhibit the growth of mold. We do not currently have non-sugar jams because we believe we cannot replicate the quality of our recipes into a non-sugar format.
Is everything local and organic?
No, not everything. Longer answer: We like to say "thoughtfully sourced" because we think about the origin and quality of every single ingredient and we maintain close collaboration with many local farms. We often change the sourcing of our fruits, herbs and other produce for every batch based on what is available at ripest/best quality.                                                                                           
PLEASE NOTE THE FOLLOWING. according to USDA GUIDELINES, we are not allowed to use O word even though that is the sugar we use. Here is a direct quote sent to me from the USDA department.
"The only way you can represent ingredients as organic is on the actual label that goes on the product, and it can only be listed in the ingredients list on the back label. Without certification, you cannot market or label using the word organic in any other way. You can use alternative words such as natural, or chemical and pesticide-free, for example if that is the case, but the use of the word organic means you are a certified operation."
We use "natural, chemical and pesticide free sugar for three reasons: 1)Concern for the environment around sugar cane and sugar beet fields. 2) Most mass produced sugar from cane is processed using bone char and is therefore not technically vegan. 3)Sugar is a GMO-risk food and certified organic sugar cane and sugar beet farmers are prohibited from using GMO seed.